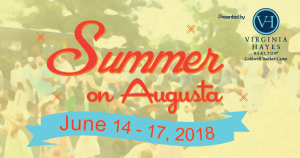 Ahhhhh yes! Summer on Augusta is officially coming back and will be 6 years old. This 4 day celebration continues to grow and the members of Augusta Road Business Association are thrilled that the community has been so supportive over the years. This year the events will take place June 14 - 17, 2018. Events to look forward to are the Annual Kick Off night at Capers Place Block Party, Augusta Commons Grillin' and Chillin', The Pickwick Pharmacy and Soda Fountain's Tomato Pie Contest, Brunch Party at Tipsy Taco and Shaggin' on Augusta and Shag Contest which is taking place this year in the large lot next to Meals on Wheels that connects Stewart and Oregon Streets. The SOA After Hours Party will be live at The 05 and new this year is the Father's Day Field Day & Cookout. So mark your calendars for June 14-17 and enjoy live music, special events, good ole' field games and prizes, cool drinks and sweet treats, activities for kids and adults and so much more! Stay tuned for more SOA news coming soon.
Visit the Summer on Augusta Website!
Do you make a Mean Tomato Pie? Then enter the Tomato Pie contest!
Questions? Email onlyonaugusta@gmail.com.
Presenting Sponsor
Celebration Sponsors
Shag Contest Sponsor