Summer on Augusta, presented by Virginia Hayes of Coldwell Banker Caine, will take place June 15-18, 2017. Special events take place along Augusta Road as local businesses celebrate Summer with festivities, block parties, activities for all ages, southern themed events, after hours events, tomato pie contest, shag contest, great food, cool drinks, live music and much more! It's a great time on the road.
All THE SUMMER ON AUGUSTA DETAILS!
Free Standing Business Specials:
Coast - Open Bar and Tent Sale! Right next to the Tomato Pie Contest
Barre3- All classes free on Saturday!
The Pickwick Pharmacy & Soda Fountain - 25% off sale on all gifts all weekend! Transfer your prescriptions and enter a chance to win Beach Bag Gift Set worth $125.00
The Rock House Antiques - Cucumber sammies and lemon fudge! Special sales throughout the shop.
Palmetto Olive Oil Co. - Buy two bottles and get your third bottle free!
L's on Augusta - Friday and Saturday we'll have special sales storewide. Enter the drawing for a chance to win 1 of 2 $25 gift certificates each day! Plus, every $10 you spend you earn one entry, the more you buy the more chances to win.
SUMMER ON AUGUSTA EVENT INFORMATION
BLOCK PARTY AT CAPERS PLACE - Thursday, June 15 from 5 to 8 pm
Paws & Claws, Savvy, Vann & Liv, Tootsies Children's Shoes, Reedy River Dentistry, First Citizens Bank, Palmetto Olive Oil Co., Augusta Road Baptist Church, Kenneth Rhodes & Associates, and Virginia Hayes, REALTOR
Music by Layton Meacham and food by Automatic Taco. Beer and wine served by HiLo, cool treats by The Chill Wagon. Enjoy kid's activities, bouncy slide, face painting and craft area. Also enjoy specials and sales at each shopping center business. Plus it's Reedy River Dentistry's 5 Year Anniversary!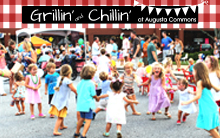 GRILLIN' AND CHILLIN' AT AUGUSTA COMMONS - Friday, June 16 from 6 to 9 pm
4 Rooms, Gage's, Muse Shoe Studio, Twill, The Elephant's Trunk, Pigtails & Crewcuts, Kenneth Rhodes & Associates, Southern First, and Priority One Security
Music by local DJ Craz-e Crane! The Tumble Bus will be onsite as well as many kids activities, face painting, contests plus sales and specials going on at participating businesses. Plus a special performance by the Greenville High Cheerleaders!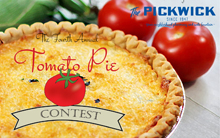 TOMATO PIE CONTEST - Saturday, June 17 at The Pickwick Shopping Center & Soda Fountain from 2 to 4 pm
It's a favorite Southern savory dish we South Carolinians look forward to in the summertime. Try that family recipe your relatives love or get creative mixing recipe ideas.  Amateur cooks only! Click here for information and to enter! The 2017 Judges will be, the 2016 winner, Susan Small, Gaye Sprague from City Council, food writer Stephanie Burnette and Jamarcus Gaston from WSPA. You can also check out artwork by Albertta Pottery and Kent Ambler. Plus from 12 to 2 pm we have Authors Caroline Smith Sherman and Dianne Gault Bailey here signing copies of their new book Fountain Inn, which tells the town history through the use of histroic images.
HOUND DOG SOCIAL - Saturday June 17 at Augusta Village from 1 to 5 pm
Augusta Grill, LeGrand Bakery, Paisley & Paper, Ponthieux's Jewelry Design Studio and The Beer Joint
A pet friendly event that supports the Greenville Humane Society. Enjoy live music by Spencer Rush, face painting, Hoola Hoop Contest, and do the Cake Walk! Check out the specials at participating businesses.
SHAGGIN' ON AUGUSTA - Saturday, June 17 at 1501 Augusta Street (next to L's on Augusta) from 5:30 to 8:30 pm
Duncan's Hardware, L's on Augusta, Clair Ray Creative Marketing, Como's Pete's Empire Spirits, Carolina Shag Club, Renita M. Owens Wealth Management, Hi-Lo Smoke Company, United Community Bank, Roundtowners, Berkshire Hathaway HomeServices C.Dan Joyner, REALTORS
Dance the night away with Beach Music by The Shag Doctorz and vote for your favorite couple in the Shag Contest, sponsored by Kenneth Rhodes & Associates. Click here to view the Shag Contest website!
SOA AFTER HOURS - Saturday, June 17 at The Common Cure from 8 to 11 pm
Walk on over after Shaggin' to enjoy more live music by local musicians Charles Hedgepath and Darby Wilcox. Sit own an enjoy dinner, plus enjoy signature drink specials by the talented mixologists at The Commom Cure.
SUNDAY AT SOUTH END FATHER'S DAY LUAU - Sunday, June 18 at The 05 at Augusta Shopping Center from 4 to 8 pm
Spend your Father's Day evening with live music by Trey Francis, great food, cool drinks, a water slide and activities for all ages, and that includes adults too!
Special thanks to Constantine Dental for your support of this Annual Festival.
Presenting Sponsor
Celebration Sponsors
Shag Contest Sponsor