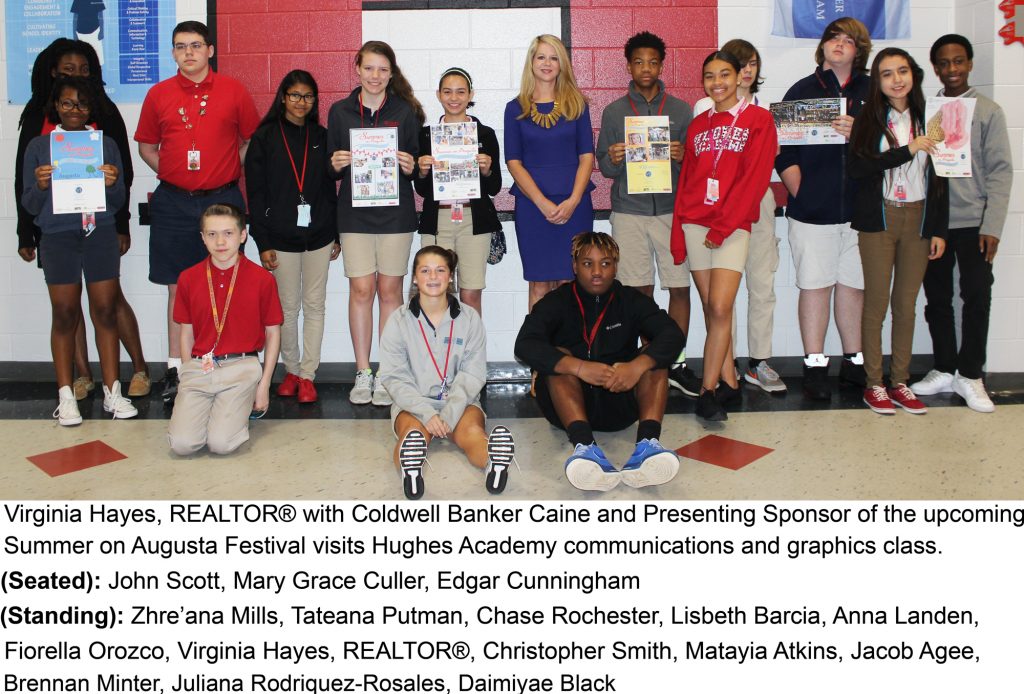 Hughes Academy and Augusta Road Business Association (ARBA) have recently partnered to help bring local business owners into the school to give the students a hands on learning experience. The members of ARBA will begin visiting the school in the 2017-2018 school year. To get to know the students and staff this year ARBA came to work with the communications and graphics class for an end of the year project. The Summer on Augusta (SOA) Director, Clair Ray, presented the vision and goals of the festival. The students, with help from the graphics and communications teacher Pamela Fink, brainstormed ideas and sketches to share with the association members. The students assignment was to illustrate their own idea that captures celebrating Summer in the South at Summer on Augusta. Each group created a promotional poster that shares a visual experience of the Summer festival. ARBA member and SOA Presenting Sponsor, Virginia Hayes, REALTOR® with Coldwell Banker Cain, also met with the students to view their final artwork. "Hughes Academy has taught these students incredible creative skills that are truly valuable in our world today and necessary for the future. Thank you to each of the students for sharing your talent with us." Members of Augusta Road Business Association are proudly displaying the artwork at businesses along Augusta Street to show appreciation of their hard work and support for Summer on Augusta 2017.
Summer on Augusta is a four day festival that takes place June 15-18 this year. The Greenville community enjoys live music, festivities, southern themed contests, dancing, kids activities and cool drinks and great food. It's a celebration of the historic Augusta Road business district and put on by Augusta Road Business Association.
Below is the final  artwork and please click an image to enlarge.