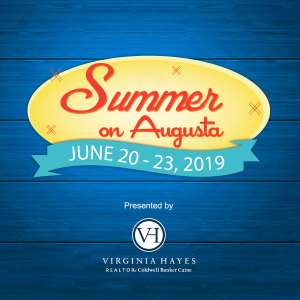 Summer on Augusta returns! Augusta Road's celebration of Summer in the South is back and takes place June 20-23, 2019. This 4 days of festivities is fun for any age. Events to look forward to are the Annual Kick Off night at Capers Place Block Party, Augusta Commons Grillin' and Chillin', The Pickwick Pharmacy and Soda Fountain's Tomato Pie Contest, Shaggin' on Augusta and Shag Contest. So mark your calendars for June 20-23 and enjoy live music, special events, good ole' field games and prizes, cool drinks and sweet treats, activities for kids and adults and so much more! Stay tuned for more SOA news coming soon.
Are you or someone you know interested in being a sponsor of Summer on Augusta? Find it here or contact us to discuss options.
Do you make a Mean Tomato Pie? You can enter The Tomato Pie Contest! Contact The Pickwick at 864-277-4180
Questions? Email onlyonaugusta@gmail.com.