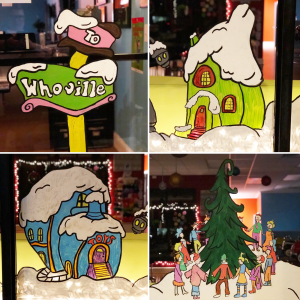 Pigtails & Crewcuts wins 2018 Lights on Augusta Contest
(Greenville, SC) Augusta Road Business Association (ARBA) congratulates Pigtails & Crewcuts  as the winner of the Seventh Annual Lights on Augusta, a Christmas decoration contest on historic Augusta Road. Members of ARBA decorated their business or store front for the month of December and the winner was decided by the community, clients, customers, neighbors and residents.  Caroline Dover, owner of Pigtails & Crewcuts is not only the LOA winner but also has won this friendly competition three years in a row. This year she got creative with Dr. Seus's Whoville theme. Special recognition goes to the second place winner Paws & Claws, the Third place winner The Rock House Antiques and Fourth place goes to Paisley & Paper.
The community voted online, at www.onlyonaugusta.com, for the best decked business on Augusta Road. The voting numbers grew this year and the community showed enormous support. We, the members of ARBA, thank the community of Greenville for helping us promote business on Augusta Road and the Lights on Augusta Contest this year.
The 2018 Lights on Augusta was sponsored by Talk Greenville Magazine. We thank TALK for their continued support for the past seven years!
For more information visit www.onlyonaugusta.com.