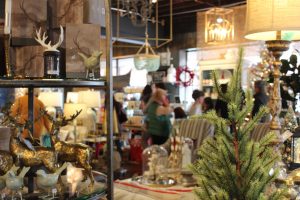 Augusta Road Business Association (ARBA) will kick off the season with Holiday Open House on Sunday, November 24 from 1:00 p.m. to 5:00 p.m. Click HERE for happenings and map.
Holiday Open House was created in the 1980's by the first Augusta Road Business Association members. It continues each year making Augusta Road the place where families experience the beginning of the Christmas season. Holiday Open House takes place each year the Sunday before thanksgiving. On Sunday, November 24 from 1:00 to 5:00 p.m. with participating businesses hosting special events to celebrate the upcoming holidays. Shoppers can get in the holiday spirit with a visit from Santa, music, carriage rides, sales, hot cocoa, door prizes, holiday treats, special gift ideas for Christmas and much more. It is a fun day for all ages.
The Annual Holiday Open House Instagram contest will be going on during Holiday Open House. Post photos on Instagram while enjoying HOH and tag @onlyonaugusta and #hohonaugusta2019 to win over $400 of gift certificates to businesses along Augusta Street.
ARBA also celebrates this kickoff each year by helping a fellow Augusta Road organization. Participating ARBA members will be accepting donations, during Holiday Open House and through December, to raise funds for The Samaritan House. Donations can be made by cash, check or card. The Samaritan House provides residents in the Augusta Road area with help by coordinating the solicitation, collection, organization, management, and distribution of food and clothing to those in need. For a list of current items needed please visit http://www.thesamaritanhous.org/
For questions please email onlyonaugusta@gmail.com.