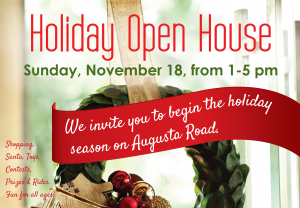 Augusta Road Business Association (ARBA) will kick off the season with Holiday Open House on Sunday, November 18 from 1:00 p.m. to 5:00 p.m.
Click here for Schedule of activities and map!
Holiday Open House was created in the 1980's by the first Augusta Road Business Association members It continues each year making Augusta Road the place where families experience the beginning of the Christmas season. Holiday Open House takes place each year the Sunday before thanksgiving. On Sunday, November 18 from 1:00 to 5:00 p.m. with participating businesses hosting special events to celebrate the upcoming holidays. Shoppers can get in the holiday spirit with a visit from Santa, music, carriage rides, sales, hot cocoa, door prizes, holiday treats, special gift ideas for Christmas and much more. It is a fun day for all ages.
The Annual Holiday Open House Instagram contest will be going on during Holiday Open House. Post photos on Instagram while enjoying HOH and tag @onlyonaugusta and #hohonaugusta2018 to win over $400 of gift certificates to businesses along Augusta Street.
ARBA also celebrates this kickoff each year by helping a fellow Augusta Road organization. Participating ARBA members will be setting out donation collection boxes at each participating business during Holiday Open House to help The Samaritan House.  The Samaritan House provides residents in the Augusta Road area with help by coordinating the solicitation, collection, organization, management and distribution of food and clothing to those in need. For a list of current items needed please visit http://www.thesamaritanhous.org/
For questions please email onlyonaugusta@gmail.com.
Here's a peek at what is Happening during Holiday Open House!
Click here for a map of HOH Locations.
OPEN HOUSE HAPPENINGS
FREE STANDING BUSINESSES
Berkshire Hathaway C. Dan Joyner) - 'Make your own S'mores' and hot apple cider on our back patio.
Kate Carlyle – Special door prizes and samples of the food we sell for tasting.
L's on Augusta - Door prizes, Plinko for extra $$ off purchases. Plus refreshments!
Prowse - Up to 30% off one item and enter to win a $50 gift card. Enjoy holiday refreshments.
Pure Barre - Pre Black Friday sale on merchandise and 12 month contracts.
The Bakery Off Augusta - A full spread of holiday treats on Sevier Street!
Palmetto Olive Oil Co. - Free 60ml bottle with every $25 purchase and Cinnamon Pear Appletinis.
The Rock House Antiques - English Trifle Bar back by popular demand! Hot Cider and Coffee Bar. Make your own English Trifle Saturday 12-6 and Sunday 1-5. We celebrate all weekend with pop-ups, sales and markdowns throughout the shop, plus enter to win $100 Gift Certificate Drawing. Pop-ups: Watts and Co, Wheaton Whaley Designs, Big D's Baked Goods, Alexander's Gifts.
SHOPPING CENTERS
 Augusta Commons
Christmas music, ornament making, Carriage rides, and of course Santa will be there so bring your camera!
Muse Shoe Studio - Everything in the store is 25% off, excluding jewelry.
Pigtails & Crewcuts - Drawing for FIVE haircuts package. The details are on our Facebook Page.
Alisa Marie Fine Lingerie - 25% off Pajamas, Robes & Slippers.  Also, a gift w/purchase.
Augusta Village
Door Prizes, Pop-up Shops, Yummy Refreshments, Children's Activities.  Grab a bite from our wonderful restaurants. Also, The Pound Cake Man will be with us - so plan on picking up something special for dessert.
Paisley & Paper - Julie Mayer Trunk Show during Holiday Open House. Rosanne Beck Christmas Card Orders 25% off in November. Embossed Graphics 20% off Raised Ink thru Nov.
Ponthieux's Jewelry Design Studio - "Hot Cocoa Bar" along with Door Prizes and Give Aways!
Vino & Van Gogh - Gifts for sale created by our artists. Prices start at just $10. Fun giveaways and a holiday craft for the kids!
Capers Place
Enjoy Kids Ornament Decorating, Christmas Tree Lighting & Story Time with Betty Farr at 3pm. Sales and specials, plus free gift wrap by all.
Lewis Plaza
Visit us at Lewis Plaza for Holiday Open House special sales and festivities at:
Greenbrier Cottage – 25% off store wide!
Giggles - Onsite Registration, meet the staff and tour the center. Enjoy face painting, crafts and sweet treats. (Regular drop in hours for registered customers)
Plaza Jewelers – 30% off all sterling silver jewelry. 25% off all in-stock jewelry.