Congratulations to Julie Mizel for winning the 2019 Holiday Open House Instagram Contest!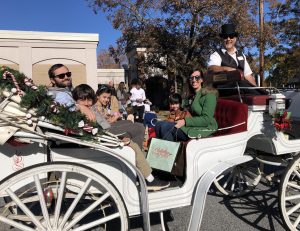 Thousands of people, excited for the holidays to begin, came to the Annual Holiday Open House on Augusta Street on Sunday, November 24. It was created in the 1980's by the first Augusta Road Business Association members. It continues each year making Augusta Road the place where families experience the beginning of the Christmas season. Shoppers can get in the holiday spirit with a visit from Santa, music, carriage rides, sales, hot cocoa, door prizes, holiday treats, special gift ideas for Christmas and much more. It was fun day for all ages.
During this annual event there is the opportunity to post photos on Instagram while enjoying the celebrations on Augusta. Julie Mizel did just that when she tagged her post with @onlyonaugusta and #hohonaugusta2019. We feel Julie's photo of her family enjoying the carriage ride shows the nostalgia of what Holiday Open House is all about, friends, family, community, history and local business.
Happy Holidays,
Augusta Road Business Association Members