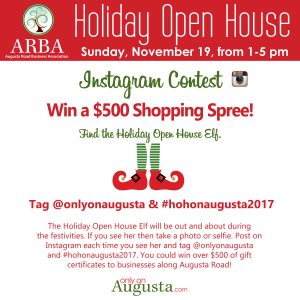 Augusta Road businesses are donating gift certificates to the winner of the 2017 HOH Instagram Contest. Find our Elf, snap a picture and post on Instagram and tag @onlyonaugusta and #hohonaugusta2017. The winner will receive $500 worth of gift certificates to use at the following businesses: Paisley & Paper, Ponthieux's Jewelry Design Studio, Pigtails & Crewcuts, Gage's, Kate Carlyle, The Elephant's Trunk, Reedy River Dentistry, 4 Rooms, Roots, Twill, Muse Shoe Studio, L's on Augusta, Berkshire Hathaway C. Dan Joyner, Salon Beverly, Plaza Jewelers, Tootsie's Children's Shoes, Palmetto Olive Oil Co., Southern First Bank.
HOLIDAY OPEN HOUSE FESTIVITIES
Below are the special events taking place along Augusta Street during Holiday Open House. See you there!
SHOPPING CENTERS
AUGUSTA VILLAGE
Paisley & Paper & Ponthieux's Jewelry Design Studio – We are thrilled this year at to have Food Truck, "Smokin' Blues BBQ" for you to enjoy while you shop along with "Pretty Pots" Truck to help you create your Holiday Wreaths. We will be having Giveaways & Door Prizes. So stop by for lunch, shopping and fill out your Wish List so Santa knows exactly what
you want for Christmas!
CAPERS PLACE
Enjoy Macarons by Jonathan Caleb, Kids Ornament Decorating, Christmas Tree Lighting & Story Time by Betty Farr at 3 pm, and Free Gift Wrap By All.
Tootsies Children's Shoes – 20% OFF All Boots during Holiday Open House only.
Paws and Claws – First look at holiday inventory. Free gift with purchase!
Savvy – Jumpstart your holiday shopping with 20% off entire purchase this day only!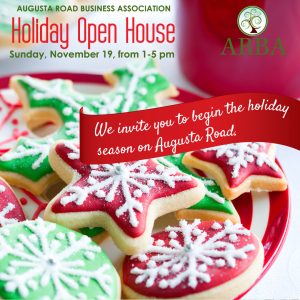 Reedy River Dentistry – Stop in for a Free Gift Bag and get free teeth whitening with scheduled new patient appointment.
Vann & Liv – Enjoy 20% OFF Entire Purchase (during HOH only).
Salon Beverly – FEATURING OUR BLOWOUT BAR – Special this day only...purchase 4 or more Blowouts for only $30 each! All Blowouts include complimentary glass of wine!
MCDANIEL VILLAGE
Vestique – Cupcakes, cocoa, and 15% OFF.
Kate Carlyle – A variety of special holiday treats.
LEWIS PLAZA
Greenbrier Cottage – 25% off everything in the store, exclusions apply, during the event.
Giggles –Grand Opening celebration! Drop by to enter raffle & receive first hour free coupon. Kids activities and more!
Plaza Jewelers – 30% off all Sterling Silver Jewelry. 25% off all in-stock jewelry.
The UPS Store – 10% OFF SHIPPING with their ad in this publication.
H&R Block – Get up to $1,000 today with an Emerald Advance.

Wells Fargo – Enjoy up to $100 in Welcome bonuses.
AUGUSTA COMMONS
Start the season with a carriage ride at Augusta Commons. Dance with the DJ to Christmas music, visit with Santa and enjoy some wonderful surprises!
Muse Shoe Studio – 25% off everything in the store, excluding jewelry, during the event.
Alisa Marie Fine Lingerie – 25% off slippers and robes.
Twill – 20% off Sweaters and Denim for HOH.
Gage's – Holiday Treats and drawing for discounts and door prizes.

The Elephant's Trunk – Treemendous Ornament Making. Plus, bring your camera for pictures with Santa.
4Rooms – $50 Gift Cards for $35, Spin The Prize Wheel for Discounts. Plus enjoy Holiday treats and Drinks.
Pigtails & Crewcuts – Children... come make your own ornament. Also, we're offering 20% off custom made gift bags during the entire week leading up to HOH as well as the actual day.
FREE STANDING BUSINESSES
Vaughn Russell Candy Kitchen
Free gift with purchase. Choose from bag, Koozie, small bag of our prepackaged choc. We will also have free sample tasting and bottle of water.
The Bakery Off Augusta
Come taste our HOLIDAY TREATS on Sevier Street!
Palmetto Olive Oil Co.
2-Free Cooking Demos and Register to win a Salad in a Jar Party for 10! We will be giving away a free 60ml bottle with every $30 purchase.
The Pink Monogram
Enjoy 20% OFF during HOH.
L's On Augusta
Designer & boutique clothing just for you, new accessories that sparkle, and gift items, too. Door prizes! Specials! Refreshments and Fun!
The Rock House Antiques
English Trifle Bar, Hot Cider and Coffee Bar back by popular demand. Make your own English Trifle on Saturday and Sunday. We celebrate all weekend with sales and markdowns throughout the shop plus enter to win $100 Gift Certificate Drawing. Saturday and Sunday pop-up: India Hicks Lifestyle! Also Sunday – International Ballet dancers will perform excerpts from The Nutcracker!
RESTAURANTS
Enjoy a meal or snack before during and after Holiday Open House – Blockhouse Restaurant and Oyster Bar, Davani's, McAlister's Deli,
Subway, and The Common Cure.
CHARITY OUTREACH
Collection jars for The Samaritan House located at participating merchants.Place money and your change in the collection box to help make a difference this holiday season. For more information on what The Samaritan House does for the community, visit http://www.thesamaritanhous.org/
Looking for more information and history about Holiday Open House then click here or email onlyonaugusta@gmail.com.