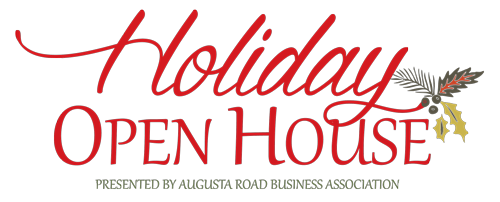 SUNDAY, NOVEMBER 14 FROM 1-5pm
HAPPY HOLIDAY MEMORIES COME TO LIFE with the sights, sounds, and smells of the season. Every year, thousands of Greenville families kick off their holiday traditions on Augusta Street. Activities designed to raise holiday spirits include holiday music, sales, hot cocoa, contests, prizes, and so much more!
Make sure to enter the HOH Instagram Contest for a chance to win a Shopping Spree on Augusta Street! To enter take a picture or selfie while at Holiday Open House, post to Instagram. Must follow @onlyonaugusta. Post and tag @onlyonaugusta and #hohonaugusta2021. We love seeing all the photos from this memorable day so post as many times as you like!
HAPPENINGS
FREE STANDING
Berkshire Hathaway C. Dan Joyner, Realtors
Curbside Apple Cider and Cookies at 2021 Augusta Street. Just drive around to the back. Same shopping center as Verizon.
Palmetto Olive Oil Co.
Get a free 60ml with EVERY $30 purchase.
Roots & 4Rooms
Treats and special holiday deals. Plus, buy $50 Gift Card for $35.
The Rock House Antiques
POP-UPS! Beth Poindexter - Nationally renowned vintage luxury handbags, and accessories collection for sale Friday, Saturday & Sunday Big D's Baked Goods - Wonderful pound cakes and the BEST cheese buttons in town. Sid Samuelson Holiday Wreaths - Preorder during Holiday Open House. Enter to win a $100 Rock House Antiques Gift Certificate. Special Dealer Sales throughout the shop.
Diggs Design
Raffle drawing, special deals, and refreshments
SHOPPING CENTERS
AUGUSTA COMMONS
Santa will be here so be sure to bring your camera! Also, enjoy carriage rides and local DJ playing Holiday favorites.
The Elephant's Trunk
25% off one item purchased at HOH. Special ornament making for children. First-grade teacher and college friend will be signing copies of their book called "Almost Twins".
Twill
20% off sweaters
Muse Shoe Studio
Everything in the shop is 20% off. This excludes ON running shoes and Julie Vos jewelry. We will serve hot apple cider and Christmas cookies!
Togar Rugs
Grand Opening celebration!
New York Butcher Shop
Stop by the wine bar for some Holiday Cheer.
AUGUSTA VILLAGE
Festivities and treats for you to enjoy!
Ponthieux's Jewelry Design Studio
20 Years Celebration! Door Prizes, Refreshments, Wish Lists, and New Inventory.
Paisley & Paper
We are celebrating Holiday Open House with Door Prizes, Gift Raffles, and Refreshments.
Vino & Van Gogh
Original artwork for sale by our local artists - perfect for holiday gifts! We will also have a craft for the kids so parents can shop!
CAPERS PLACE
Shope and enjoy sweet treats, holiday drinks & more!
Savvy
15% off all sweaters and jackets plus free gift wrap!
Vann & Liv
20% off storewide and 30% off holiday styles.
LEWIS PLAZA
Harrington's
20% off storewide and 75% off sale styles!
MCDANIEL VILLAGE
Roost
Celebrate the season with shopping, champagne, and sweets.
StretchLab
Free Demo Stretches, Raffles, Balloon Artist and Christmas Cookies.
Kate Carlyle
Drawing, Raffle, and Refreshments.