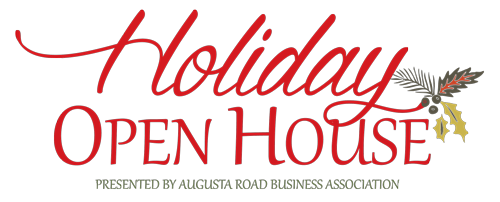 SUNDAY, NOVEMBER 13 FROM 1-5pm
HAPPY HOLIDAY MEMORIES COME TO LIFE with the sights, sounds, and smells of the season. Every year, thousands of Greenville families kick off their holiday traditions on Augusta Street. Activities designed to raise holiday spirits include holiday music, sales, hot cocoa, contests, prizes, and so much more!
Make sure to enter the HOH Instagram Contest for a chance to win a Shopping Spree on Augusta Street! To enter take a picture or selfie while at Holiday Open House, post to Instagram. Must follow @onlyonaugusta. Post and tag #onlyonaugusta and #hohonaugusta2022. We love seeing all the photos from this memorable day so post as many times as you like!
HAPPENINGS
FREE STANDING
Palmetto Olive Oil Co.
Free 60ml bottle for every $30 spent.
4 Rooms
Holiday Treats and Special Deals
The Nested Fig Garden
Holiday Treats and Special Deals
The Rock House Antiques
POP-UPS! Beth Poindexter - Nationally renowned vintage luxury handbags, and accessories collection for sale Friday, Saturday & Sunday Big D's Baked Goods - Wonderful pound cakes and the BEST cheese buttons in town. Sid Samuelson Holiday Wreaths - Preorder during Holiday Open House. Enter to win a $100 Rock House Antiques Gift Certificate. Special Dealer Sales throughout the shop.
Diggs Design
20% Off Purchase
SHOPPING CENTERS
AUGUSTA COMMONS
Santa will be here so be sure to bring your camera! Also, enjoy carriage rides and a local DJ playing Holiday favorites.
The Elephant's Trunk
25% off one item purchased at HOH. Special ornament making for children.
Twill
20% off sweaters and jeans
Muse Shoe Studio
20% off the entire store, excluding jewelry
Buttermilk Sky Pie Shop
Drawing for a free 9" pie at thanksgiving
New York Butcher Shop
Stop by the shop and wine bar for some Holiday Cheer.
AUGUSTA VILLAGE
Santa, festivities, Augusta Circle chorus, and treats for you to enjoy! Visit with Santa from 2-4 pm and Augusta Circle Chorus will perform at 1:30 pm
Ponthieux's Jewelry Design Studio
Santa Claus, Door Prizes, Jewelry Cleaning & Inspections, and Yummy Treats.
Paisley & Paper
Door prizes, sweet treats, and Santa.
CAPERS PLACE
Shop and enjoy sweet treats, holiday drinks & more!
Savvy
15% off all sweaters and jackets plus free gift wrap!
Vann & Liv
Holiday sales!
LEWIS PLAZA
Augusta Road Animal Hospital
Pictures with the Grinch and basket giveaway
Harringtons
20% OFF FULL PURCHASE!
MCDANIEL VILLAGE
Roost Interiors & Gifts
Celebrate the season with sales, champagne, and sweets.
Kate Carlyle
Drawing, Raffle, and Refreshments.