1990 Augusta Street, Greenville, SC, United States
Welcome to Heavenly Care Services, where we strive to provide the best in ethical, compassionate, competent care, with the welfare and happiness of our clients as our number one priority. At Heavenly Care Services we know it isn't easy inviting others into your home to provide care. So with that in mind, we give you the opportunity to interview and select the caregiver we refer to you. When you meet our caregivers, you'll see that at Heavenly Care Services intergrity always comes first. We are dedicated to providing the highest quality of care available and our clients will always be treated with the dignity and respect that they deserve.
We are a non-medical homecare service that allows people to continue enjoying the independence and pleasers of their lifestyles in their own environment. We can help your family avoid the emotional trauma of leaving home. One of the advantages of using Heavenly Care Services is the personal, one-on-one attention you will receive. Not only are we an agency but a family. To us you will not be just another client but a neighbor and a friend.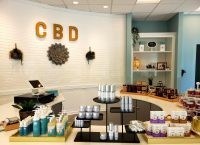 2111 Augusta Rd, Greenville, SC 29605, USA
Right here on Augusta Street, you'll find YOUR CBD STORE! Your CBD Store® products are made using only the highest quality, organically grown hemp from Colorado which has been certified by that state's Department of Agriculture. This phytocannabinoid-rich (PCR) hemp has a naturally high CBD level, and an abundance of other beneficial cannabinoids (CBG, CBN, CBC), as well as flavonoids, terpenes, and essential amino acids. We use a CO2 extraction process, which eliminates the need for chemical solvents and produces a high-quality, full-spectrum CBD. For our zero-THC products, the CBD is processed again to remove all traces of THC. Stop by and visit us.