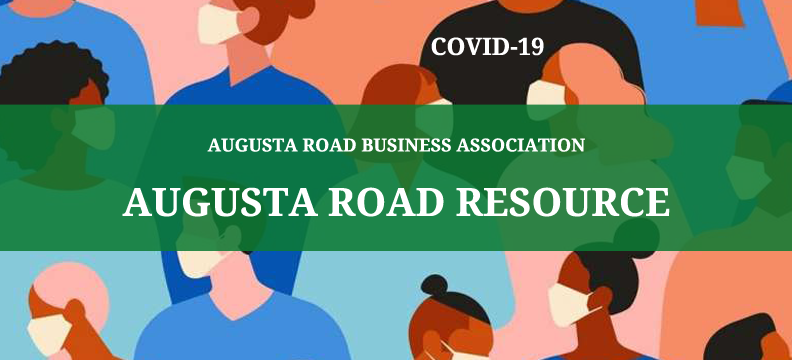 CORONAVIRUS NEWS ON AUGUSTA: Below is a list of businesses with news and information during this unfamiliar time.
This page is constantly updated so come back and visit this page or email us with questions onlyonaugusta@gmail.com.
---
4ROOMS - We are open for business! If you are not ready to venture out yet then visit us online at 4roomsgreenville.com.
AUGUSTA GRILL (Restaurant) - We are open for business! Hours are Tuesday through Saturday 6-9 p.m. There will be no more deliveries. We are doing curbside, takeout patio seating and inside dining at 50% occupancy. Call us at 864-242-0316 with any questions you may have.
BAD DADDY'S (Restaurant) - Doors are open for indoor and outdoor dining. You can also get take out by ordering online at https://order.baddaddysburgerbar.com/ or calling (864) 552-1700.
BERKSHIRE HATHAWAY, C. DAN JOYNER REALTORS - On June 1st we will put phase 2 guidelines in place. Limited client interactions and social distancing rules. We are still open for business. Please call 864-241-2880 to be connected to our agent on call. You may also search, view, and save properties or connect with any of our associates at www.CDanJoyner.com. We welcome the opportunity to serve you even during these unprecedented times. Be well, Your Augusta Road CDJ Family.
BERNHARDT HOUSE OF VIOLINS - At this time, BHV is offering Curbside Service. We can ship items if you need accessories, strings, or music. If you need to try out instruments, we are allowing one appointment at a time in the store. Please call (864-282-8887) or email us if you need anything and we will do our best to keep you playing! Visit our website (www.bernhardtviolins.com).
BUTTERMILK SKY PIE SHOP - Is now open! Walk in, phone and online orders being accepted. Call ahead for contactless pickup: 864-729-8555.
DUNCAN'S HARDWARE - Open normal hours, Monday - Saturday 8am to 6pm and closed on Sundays.
EMPIRE SPIRITS - We continue to be open normal hours: 9:00 AM to 7:00 PM Monday through Saturday. We are following all guidelines as required by the city for social distancing. Reminder we have moved to 1430 Augusta Street. The new store is much bigger and gives everyone room to spread out and be safe.
GAGE'S (gifts, accessories, stationery, invitations) - Gage's is now open! Hours are12-5 Monday through Saturday. Come by to shop or call us at 233-6178 or email contactgages@gmail.com with any questions.
GREENBRIER COTTAGE - Greenbrier Cottage is OPEN! Regular hours 10-5:30 Monday-Friday and Saturday 10-4.
JERSEY MIKE'S SUBS (restaurant) - Open: Monday through Sunday 10:00am-9:00pm. Curbside upon request No contact pick-upDelivery through Jersey Mike's App., JerseyMikes.com, DoorDash, Grubhub, Postmates.
KATE CARLYLE (gifts and accessories) - Kate Carlyle is back to normal business hours, M-Th 10-5:30pm and Fri & Sat 10-5pm. We ask that our customers please respect social distancing and please limit 5 customers in the store at one time. We will continue to offer curbside pick-up as well as deliveries within a 5-mile radius. Please email orders to katecarlylegifts@gmail.com or call 864-421-0440. Many of our items are on our Instagram and Facebook pages.
L's ON AUGUSTA (women's consignment boutique) - As of July 14, we have added hours and are open later, Tuesday-Friday 11-6 PM, and Saturdays 10-4 PM, closed Sundays and Mondays. L's On Augusta has taken the Greater Greenville Pledge to Reopen Responsibly. For your safety and ours, we follow CDC guidelines and require everyone to WEAR A MASK, use sanitizer, and maintain a safe social distance, and we limit occupancy to five. We are monitoring the situation as changes and new information comes from city, state, and federal officials, and we'll follow strategies that public health authorities recommend. UPDATE on consignment appointments: due toCOVID-19, please call to see if and what we are taking at this time. Please, no unscheduled drop-offs. Thank you!
LABELS (women's consignment boutique) - Labels is open! Limited hours and limited store occupancy according to the guidelines for phase 1 of re-entry. We are practicing social distancing within the store and ask people to shop as they feel comfortable. We are sanitizing all hard surfaces as much as possible and offered 24 seven online shopping at labelsgreenville.com
LAFAYETTE CLEANERS - We are open for your Dry Cleaning Needs! Our hours are Mon-Fri 8am to 5pm and Saturday 9am to 1pm.
LIBRARY - The Augusta Road Branch of Greenville County Library System has reopened to the public. For your safety, please observe the following during your visit to the Library. www.greenvillelibrary.org
A limited number of visitors will be allowed in the building at a time.
Do not enter if you are not feeling well.
Due to public health concerns, please limit your visit to 1 hour.
Masks are required when entering the building and when receiving assistance from staff.
For your safety, remain 6 feet from others and follow directional arrows.
MUSE SHOE STUDIO - We are back to regular hours. But still offering curbside pick-up. Check out our Instagram/Facebook stories for specials and featured styles! You can call us as well at 864-271-9750.
NORTH HILLS AUTOMOTIVE - We're offering free pick up and delivery of vehicles for service or repair to make sure folks have a dependable car during this crisis. We are also an "Errand" service if anyone needs anything picked up and delivered! There is no cost for any of these conveniences.
PAISLEY & PAPER (gifts, accessories, stationery, invitations) - We are taking every precaution to keep you and our staff by sanitizing constantly and enforcing social distancing. We are limiting hours to Monday - Friday 10am to 4pm and Saturday 10am to 2pm. If you would like to make an appointment, please call the store during business hours at 864-242-1466 or email paisleyandpaper@att.net or visit our website at paisleyandpaper.com.
PALMETTO OLIVE OIL CO: - Palmetto Olive Oil Co is open for curbside orders from Mon-Sat 10-5 and 1-4 on Sunday. Simply call us at 864-298-0304 to place your order, or go to our website, www.palmettooliveoilco.com and choose "InStore Pickup" when you get to the shipping options. If we have any specials, this will be available to both called in orders and website orders. We will be opening up for in-store shopping on Monday, June 1st, but will continue to offer curbside service for orders called in or placed online. Palmetto Olive Oil Co is now refilling bottles again! Bottles MUST be clean and dry. You will receive $2 off every bottle refilled on Sundays and Mondays, and $1 on every bottle refilled Tuesday through Saturday. Please help us keep our bottles out of the landfill!! Our current hours are Monday through Saturday 10-4 and Sundays 1-4.
PAWS & CLAWS - Both our locations are OPEN! We do have curbside pickup available for those who do not want to come inside. Call us at 864-242-3738 and we can get your order ready and come out to meet you and get your dog for their grooming appointment. We are practicing social distancing and extra measures to sanitize the store.
PIGTAILS & CREWCUTS: WE ARA OPEN! Remember we are appointments only at this time. Hurry and schedule your Personal Time Slot for your child's Back-to-School haircut at www.pigtailsandcrewcuts.com.greenville.
PONTHIEUX'S JEWELRY DESIGN STUDIO - We are back to normal business hours, Monday-Friday, 10-5:00 pm. We have joined the Greater Greenville Pledge of reopening responsibly to take the steps based on CDC and DHEC guidance to: Sanitize frequently, promote social distancing, limit capacity, monitor employee health, and employees will be wearing face coverings. 864-370-4466 or www.ponthieuxs.com.
PROWSE WITH MOORE (women's boutique) - Hello Augusta Road friends! We wanted to check in to let you know that we have been surviving through these crazy pandemic months! We couldn't have made it without our family, friends, and, especially, our customers! We celebrated 1 year back in April! We couldn't celebrate as originally planned, but we look forward to many more years to come! We are still able to serve our customers through DM, shipping, delivery, and curbside pickup. But thankfully, we've reopened and love seeing our customers in person again! We signed the Greater Greenville Pledge to reopen safely, we wear masks, monitor our health, practice, and promote social distancing, limit capacity, and clean frequently. We recently had the pleasure to visit "virtually" with Megan Heidlberg from Your Carolina, and our segment aired Tuesday, August 4th - check us out! prowsewithmoore@gmail.com or 864-203-2822.
RE:ALIGN PILATES - We are now open! Call 864-380-5851 or check out our webpage at Realignpilatesgreenville.com.
REEDY RIVER DENTISTRY - Reedy River Dentistry is back open for our patients again. We are extremely happy to be back at work and see each of our patients again. While things have changed, one thing has remained the same: our commitment to your safety. Our office follows infection control recommendations made by the American Dental Association (ADA), the U.S. Centers for Disease Control and Prevention (CDC) and the Occupational Safety and Health Administration (OSHA). We follow the activities of these agencies so that we are up-to-date on any new rulings or guidance that may be issued. We look forward to seeing each of you again and are happy to answer any questions you may have about the steps we take to keep you and your family safe. We value your trust and loyalty and look forward to welcoming back our patients, neighbors, and friends.
SAVVY (women's clothing boutique) - Savvy is back to operating with regular business hours as follows: M-F 10-6 and Sat 10-5. We are continuing to sanitize regularly and following the CDC guidelines on social distancing to the best of our ability. We are still offering curbside pick up as well as front door drop off within a 5 miles radius and free shipping on orders over $100! We also accept orders through our website (www.savvygreenville.com), Instagram (@savvyinc), as well as over the phone (864-370-9898).
SCARLET MACAW (ladies boutique) - We are open for normal business hours so stop by and see us. You can also shop online at https://scarletmacawus.com/ Did you know you can video call us to shop around at your convenience? Message us for details or call/facetime (864) 444-5527.
STRETCHLAB - We are open and operating by CDC's recommended guidelines for safety. First-time visitors special, $49 for 50 minutes! Call 864350-7775. Located at 1922 Augusta St. #111
SUBWAY (restaurant) - We are open and serving customers inside and through the drive-thru. Limited seating inside with social distancing. Customers can order at our drive-thru kiosk, our app, online at order.subway.com or over the phone (232-7551 option 1). We also deliver through BiteSquad, UberEats, Postmates and GrubHub.
TACOZZINI (restaurant and bar) - We are open for indoor and outdoor dining! New Hours are Monday-Wednesday 11am-9pm, Thursday-Saturday 11am-10pm, Sunday 10am-9pm. WE ARE CLOSED FOR BRUNCH. Plus we are happy to get your to-go orders from our menu ready for you to enjoy at home. Here's an extra to-go option: Everything you need to make a flavorful and inviting taco bar including tortillas, Belizean-style beans, tortilla chips & garden salsa. Serves a family of 5 or a family of 10 but will need an hour notice for the perfect preparation, The Taco Americana with chicken. Yum!
TIPSY TACO - We are open for regular hours! 10:00 am to 11:00 pm
THE 05 (Restaurant & Bar) - Several menu options every day so call in and pick up at the garage window. 864-412-8150. Plus we are making 6 quarts of our homemade margarita mix made from scratch! Available for purchase, first come first serve!
THE BLOCKHOUSE RESTAURANT & OYSTER BAR - Indoor dining 50% capacity as well as outdoor dining. To go and curbside orders too! Regular business hours and specials/ happy hours are available as well. 864-232-4280 https://blockhouse.net/ Hours: Mon - Thurs 11:00am-10:30pm (bar until 12:00am). Fri - Sat 11:00am-11:00pm (bar until 2:00am). Sun 11:00am-10:00pm (bar until 11:00pm)
THE EMBASSY FLOWERS & NATURE'S GIFTS - The Embassy Flowers is open for in-store shopping and/or curb pick up and delivery Monday through Friday from 9 to 5. Please visit our website at embassy-flowers.com or call us at 864-282-8600 to place an order.
THE GREY GOOSE (children's clothing store) - We are open 10-4 M-F now and 10-3 on Saturday - still available by phone, text, online shopping https://greygooseonline.square.site/s/shop , Instagram shopping. We Suggest wearing a mask. Hand sanitizer available
THE ELEPHANT'S TRUNK (toy store) - The Elephant's Trunk doors are open! We are limiting the number of people in the store for their safety and ours. We are still offering curbside pickup. Just call 864-232-4731.
THE NEEDLE TREE - The NeedleTree is opening back up on Tuesday, May 5th, 2020 but we have had to implement a few changes for the Covid-19 protocols. Email KT at kt@theneedletree.com, or leave a message at 864-235-6060.
• Social Distancing will be observed in the shop as we limit the number of customers at any one time.
• Curb service will remain an option, just let me know with a call, text, or email.
• In order to properly clean, disinfect and otherwise maintain a healthy environment, foot traffic hours will initially be reduced to Tuesday, Thursday, and Saturday 12:00 – 3:00.
• Our one-on-one free teaching for knitting and needlepoint is still suspended. I will make individual arrangements where possible to work with you via FaceTime, Zoom or other options.
• Face masks and other personal protection is the new normal.
• Hand sanitizer will be readily available for all to use.
• The areas "behind the gate" will be closed to the public. This includes the needle wall, misc. accessories wall, the kitchen and, yes, the restroom.
• Bear with us as an uneven supply chain in both the knitting and needlepoint industries takes its time to sort out. I am expecting unpredictable ordering and delivery to continue but will do my best to work with you!
• Policies and procedures will change as CDC guidelines evolve.
THE PICKWICK PHARMACY & SODA FOUNTAIN (pharmacy and restaurant)
We are open for regular hours of operation with in-store visits.
Sanitizing touchpoints constantly to ensure a safe environment.
The soda fountain is serving all your favorite items for dine-in or carry out.
Along with in-store visits, we offer FREE delivery to the Augusta Road area and curbside pick up. Feel free to give us a call from the parking lot, & we will bring anything you need tight to you. Curbside pick up includes over the counter items, gifts and to-go orders from the fountain.
To better serve you, contact us when your physician sends an E-Prescription. That way we will know you want the prescription and we will have it ready for pick up - reducing your wait time. You may also use our automated phone system, website refill portal, or email ahead for refills.
THE ROCK HOUSE ANTIQUES - We Are Open! Monday-Saturday 11-5 and Sundays 1-5. Shop our Instagram stories and posts @therockhouseantiques. We offer curbside pickup, shipping, and Lay-Away.
TOOTSIES CHILDREN'S SHOES - Open with staff for shoe fitting Monday - Sat, 10am - 4pm with limited persons in the store at a time. Appointments, curbside service, and in-town delivery still available. If shopping in our showroom, adults please wear mask. 864 603 3803
VANN & LIV - Open with modified hours, Monday to Friday 10-4 and Saturday 10-2. We are limiting the number of customers in the store. We are continuing to offer curbside pick up, taking phone and instagram orders.
VAUGHN RUSSEL CANDY KITCHEN - We are open Thurs, Fri, and Saturday. We can take phone call orders and only 2 customers at a time in the shop. Please call 864-271-7786 and leave a message if you get voice mail. We will get to you pronto!
VINO & VAN GOGH - Fall for Art with us! Great new adult & kid classes are on our calendar for Fall at www.vinoandvangogh.net. Keeping our classes small - we are able to follow CDC guidelines. Families & friends are welcomed to sit together if they like. Masks are always worn by our Vino & Van Gogh artists.
Vino & Van Gogh is offering small classes in the studio and on the patio, and there are still a few spots available in our Summer Art Camps! Please see our Art Class Calendar at www.vinoandvangogh.net. Also, follow our social media pages for updates or feel free to call or email us with questions or inquiries. Vino & Van Gogh continues to closely follow the guidance of our local, state, and federal authorities, as well as the latest recommendations from the Centers for Disease Control (CDC).
YOUR CBD STORE - Our award-winning CBD products delivered straight to your front door for free! BOGO 50% OFF continues!! 864-534-1050.