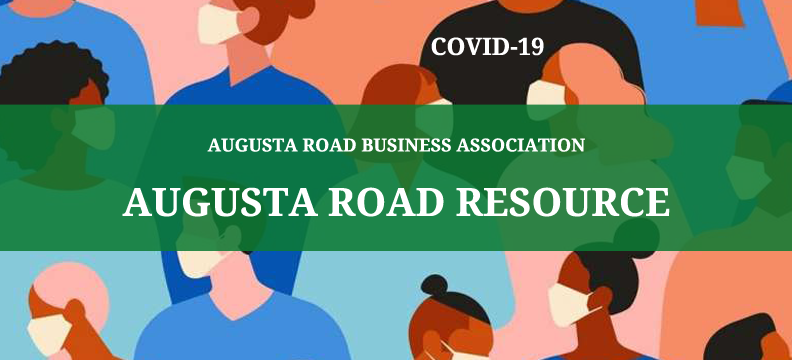 CORONAVIRUS NEWS ON AUGUSTA STREET AREA: Below is a list of businesses with news and information during this unfamiliar time. Updated Constantly!
---
AUGUSTA GRILL (Restaurant) - Augusta Grill will be open Tuesday -Saturday 5 to 8:30 pm. CRAB CAKE NIGHT IS WEDNESDAYS! We are offering curbside service, takeout AND DELIVERY! Call 864-242-0316 .
BAD DADDY'S (Restaurant) - From 11 am- 9 pm you can continue to enjoy our delicious food through curbside service or delivery by ordering online at https://order.baddaddysburgerbar.com/ or calling (864) 552-1700. You will be asked the make and model of your car so we know to be on the lookout for you.
BERNHARDT HOUSE OF VIOLINS - Closed to the public at this time. We are still taking phone calls and emails. We can ship items that you need such at strings, books and accessories. Call (864-282-8887) or visit our website (www.bernhardtviolins.com).
DUNCAN'S HARDWARE - Open normal hours, Monday - Saturday 8am to 6pm and closed on Sundays.
GAGE'S - Customer Appreciation SALE! 20% off select items.See items on our Instagram Stories! Call or message us on Instagram for questions or to purchase! Call ahead for pickup, and we will bring it out to you. Currently Gage's is open for curbside delivery from 12-5 Monday through Saturday. Just call us at 233-6178 or email contactgages@gmail.com
GREENVILLE HIGH SILENT AUCTION - Due to the coronavirus our annual oyster roast fundraiser has been changed to an ONLINE SILENT AUCTION! from April 4-9. Participation in our Auction and Donations are more important than ever in our ability to support varsity and junior varsity Red Raider athletes with needed transportation, equipment, uniforms, field and facility maintenance, and more. Participating in sports provides Greenville High students with opportunities to learn valuable life skills and life lessons, and creates friendships that can be life-changing and lifelong. To sign up and register for the online auction visit www.GreenvilleHighBoosterClub.com.
KATE CARLYLE (gifts and accessories) - View our Kate Carlyle items on our Instagram, Facebook, and e-blasts. Email Kate at kate.barr@att.net We can wrap and deliver within a 5 mile radius
L's ON AUGUSTA (women's consignment boutique) - As we continue to balance keeping our customers and staff safe and healthy, we have decided that the best course of action is to be closed until April 15. We are monitoring the situation as changes and new information comes from the city, state, and federal officials, and we'll follow strategies that public health authorities recommend. We cannot wait to open up the shop and get to see you again, we miss you! Also, scheduling appointments for summer consignments are on hold at this time due to COVID-19. Thank you! .
LABELS (women's consignment boutique) - Is closing temporarily. Please shop online at labelsgreenville.com
LIBRARY - Due to public health concerns, effective Tuesday March 17, all Greenville County Library System events are canceled until further notice. please check back regularly for updates at www.greenvillelibrary.org/library-updates
NORTH HILLS AUTOMOTIVE - We're offering free pick up and delivery of vehicles for service or repair to make sure folks have a dependable car during this crisis. We are also off an "Errand" service if anyone needs anything picked up. There is no cost for any of these conveniences.
PAISLEY & PAPER (gifts, accessories, stationary, invitations) - Although our doors are closed to the public, our family will be attending to business Monday - Friday 11am to 4pm with inventory, printing, and the processing of online or call in orders. If you need something, do not hesitate to call at 864-242-1466 or email paisleyandpaper@att.net. We are happy to assist you with your purchase, process payment, and arrange for delivery or pick up of your item. We strongly encourage you to place orders ONLINE on our website https://paisleyandpaper.egbreeze.com/
PALMETTO OLIVE OIL CO: - 10am-4pm. We are including a Special Gift ($12 value) for all orders over $50 *while supplies last*. Simply call and place your order and pay with credit card. Call again when you arrive at the store and we will deliver your order to your car. Call us at 864-298-0304 Below are links to our website to help you make your selections. We only have our 375ml bottles on our website, but we have three sizes of bottles. (200ml, 375ml and 750ml) Flavored Olive Oils and Balsamic VinegarsUP Extra Virgin Olive Oil.
PIGTAILS & CREWCUTS: As of 3/21/2020 we will be closed for two weeks.
PONTHIEUX'S JEWELRY DESIGN STUDIO - Temporarily closed at this time. Please call or email us on our website regarding your projects or if you have a special occasion we can help you with and we will get back to you as soon as possible. 864-370-44-66 or www.ponthieuxs.com.
PROWSE WITH MOORE (women's boutique) - We have decided to stay open by personal appointment only, we will be offering shipping for free, curbside pickup, and we will be available for all needs via DM. Everyone can shop our boutique items via Instagram and Facebook, @prowsewithmoore. We will operate as such for the next few weeks or so, depending on how things progress with the state and city ordinances.
REEDY RIVER DENTISTRY - Our number one priority is the safety and well-being of our patients, our staff and our community. With the ongoing spread of COVID- 19, the South Carolina Dental Association is recommending we postpone all regular appointments. Dr. Hicklin is still available to treat our patients with emergencies. We are closely monitoring this evolving situation and will continue to provide updates as they come. Thank you for your patience and understanding during this time. Dr. Hunter Hicklin and team.
SAVVY (women's clothing boutique) - This week we are offering 15% off entire purchase online & in-store! Shop www.savvygreenville.com & all new arrivals from the comfort of your own home! Use code: retailtherapy at checkout to take advantage! As an added convenience, we are offering curbside pick up as well as front door drop off within a 5 miles radius with free shipping on orders over $100! We also accept orders through Instagram (@savvyinc) as well as over the phone. Please feel free to reach out at any time. 864-370-9898 and follow up on Instagram to stay up to date!Savvy Hours: Mon-Sat 10-5
SCARLET MACAW (ladies boutique) - Did you know you can video call us to shop around at your convenience? Message us for details or call/facetime (864) 444-5527. Safety is our top priority during these times and to bring you the safest shopping experience possible we will be launching our online store within the next week!
STRETCHLAB - Closed but offering virtual complimentary stretch sessions on Instagram @strecthlabgreenville and on StretchLab Go on Facebook.
SUBWAY (restaurant) - We are open and serving customers through drive-thru only. Customers can order at our drive-thru kiosk, our app, online at order.subway.com or over the phone (232-7551 option 1)and come to our drive-thru window for pick up. We also deliver through BiteSquad, UberEats, Postmates and GrubHub.
TACOZZINI (restaurant and bar) - New Hours are in place as of March 26 - Monday - Friday 11am to 9pm and Saturday & Sunday 4pm to 9pm. WE ARE CLOSED FOR BRUNCH. We have everything you need to make a flavorful and inviting taco bar including tortillas, Belizean-style beans, tortilla chips & garden salsa. Serves a family of 5 or a family of 10 but will need an hour notice for the perfect preparation as seen here, The Taco Americana with chicken. Yum
THE 05 (Restaurant & Bar) - Several menu options everyday so call in and pick up at the garage window. 864-412-8150. Plus we are making 6 quarts of our homemade margarita mix made from scratch! Available for purchase, first come first serve!
THE BLOCKHOUSE RESTAURANT & OYSTER BAR - Order a Family Meal for 4 with all your Blockhouse favorites! Family of 4 Meal includes one protein, two sides, 1/2 gallon of tea! With an option to add WINE priced by the bottle or 6 pack of beer. Complete with Curbside Pick-Up! Order yours today! Call us to place your order ~ 864-232-4280 https://blockhouse.net/
THE CHANDLER SCHOOL - Has started online learning for all students.
THE GREY GOOSE (children's clothing store) - We are currently closed to foot traffic. We are in store from 10AM-2PM Monday through Saturday for window shopping, pick-ups, FaceTime, phone orders, text messages, and Instagram.
THE ELEPHANT'S TRUNK (toy store) - We are open for business 10-5 Monday through Saturday. We are offering curbside pickup and delivery when needed. Customers can call us and we will then FaceTime them back if they want to have a look around the store. Our phone number is 864-232-4731.
Simply call (864) 235-6060 and discuss what you want and place your order
Pay with a credit card
We will deliver your order to your car
THE NEEDLE TREE - The NeedleTree is currently open regular business hours but is primarily operating curb service only. Simply call (864) 235-6060 and discuss what you want and place your order. Pay with a credit card and we will deliver your order to your car. Due to the Coronavirus protocols, we are not able to provide one-on-one teaching or individual hands-on project assistance. We will continue to work with you via phone or FaceTime. We will be updating our social media with updates and changes as they occur. Our links are web page: https://www.theneedletree.com Facebook:https://www.facebook.com/The-NeedleTree-380729931978414/ Instagram: https://www.instagram.com/the_needletree/ Raverly: https://www.ravelry.com/projects/theneedletree
THE PICKWICK PHARMACY & SODA FOUNTAIN (pharmacy and restaurant)
We are open for regular hours of operation.
Sanitizing touchpoints constantly to ensure a safe environment.
To-Go orders only for food orders from the Soda Fountain.
Curbside delivery isn't just for prescriptions! We also encourage you to use it for over the counter items, gifts and to-go orders from the fountain. Call us from the parking lot & we will bring anything you need right to you.
To better serve you, contact us when your physician sends an E-Prescription. That way we will know you want the prescription and we will have it ready for pick up - reducing your wait time. You may also use our automated phone system, website refill portal, or email ahead for refills.
TOOTSIES CHILDREN'S SHOES - Were open for curbside, shipping and in-home delivery in the area. We have one person in the store from 11am to 3pm to take your calls and orders. We are stocked with spring and summer inventory. Please support your local stores, WE NEED YOUR SUPPORT! 864-603-3803.
VAUGHN RUSSEL CANDY KITCHEN - We are open and have enhanced our cleaning measures and will continue to do so. If you prefer not to come inside to shop then we taking orders and will offer curbside service or free shipping!
VINO & VAN GOGH - Vino & Van Gogh Greenville is continuing to strive to provide fun & creative art to our community! Please follow us on social media or see our website Vinoandvangogh.net for information about Take-Home Art and Virtual Art Classes.
YOUR CBD STORE - Our award winning CBD products delivered straight to your front door for free! BOGO 50% OFF continues!! 864-534-1050.